Ready to take control of your health?
Ludan Huang consults locally in Portland, OR and globally via telehealth.
Request the Complimentary Discovery Call to start your Functional Nutrition journey today!
Complimentary Discovery Call Request
Click the button below to request your Complimentary Discovery Call.

In the 20 min Complimentary Discovery Call, ask the questions you have and discuss your health challenges and goals with us. Together, we will determine if one-on-one functional nutrition consultation or a group class is right for you. If applicable, we will make recommendations on the services that can serve you the best.
To give a general idea, the Functional Nutrition process* is generally conducted in 2-6 sessions, depending on client's conditions and health goals.
Power Symptom burden analysis consultation
30 min
Designed for those who want to understand their health profile and receive inputs on the direction to improve their health systematically. The consultation is based on analysis performed on a comprehensive Symptom Burden Assessment Questionnaire the client completed prior to the consultation.
$70**
8-week foundational Restoration program
3 consultation sessions, 75 min each
(Bonus) 2 15-min between-appointment check in calls
The 8-week Foundational Restoration Program includes the full Functional Nutrition Process*. It is designed for those who desire personalized recommendations to restore the foundation of health.
$450 
Holistic Transformation program
The 8-Week Foundational Restoration Program + The RESTART Program
The Holistic Transformation Program combines the best of small group class education and 1:1 in-depth functional nutrition consultation. It is designed for those who desire to transform their health with the most comprehensive support.
$650
* Typical Functional Nutrition Process includes the following components: extensive personal/family health history review, Food and Mood Journal analysis, comprehensive Symptom Burden Assessment Questionnaire analysis, personalized dietary/supplement/herb/lifestyle recommendation and implementation, and iterations of combinations of the above components as needed as healing progresses.

** Should client decide to move forward with further care through a package consultation, this cost will be applied as a discount toward the package.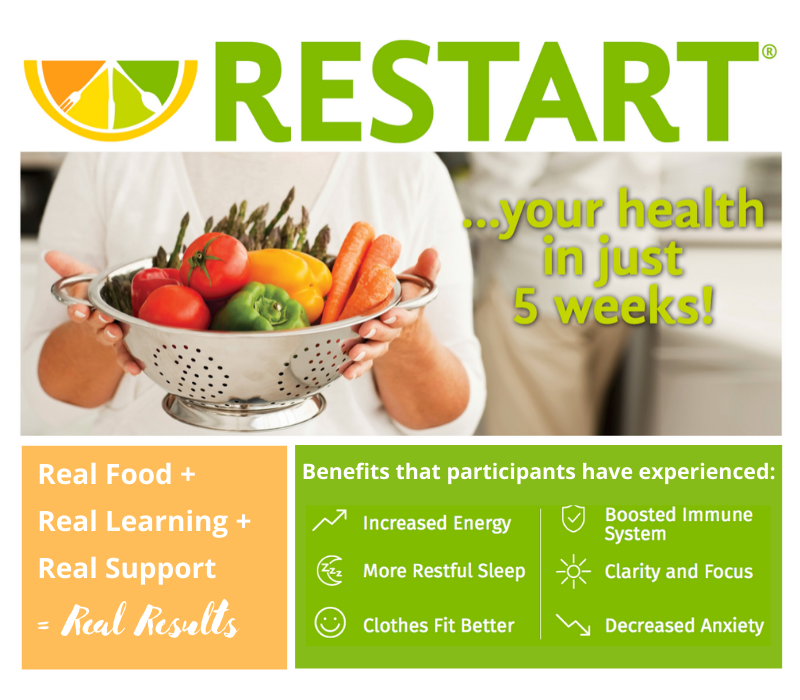 An empowering combination of Up-to-date Nutrition Education, Guided Sugar Detox (a.k.a Real Food Challenge), and Small Group Support, the RESTART® Program is a simple, powerful way to give your body a vacation from processed foods and kickstart a healthy lifestyle. With a 3-week sugar detox built right in, the 5-week program focuses on how to use REAL FOOD to boost your energy, cut sugar and carb cravings, and strengthen the immune system. Discover how good you can feel!
The program includes 5 weekly 90-min classes, 39-page course materials, a cookbook, and in-between private group & email support.
Each cohort is limited to 10 participants.
$225
Interested in attending a future cohort? Join the waiting list to get notified of the future cohorts!